Painting Services in Greenville, SC
The Fastest Way to Upgrade Your Space
Our expert painting services in Greenville, SC will make your space feel modern and inspiring — fast.
We'll consult with you to find the exact color that stimulates your senses. Then, we'll choose the best type of paint to perfectly bring your vision together.
As always, we're happy to honor any special requests. Let's have a chat about your specific needs.
WE SUPPLY EVERYTHING
You deserve the best — so we'll provide all of the highest quality supplies needed to get the job done.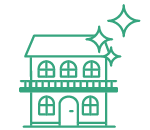 Expert Service
You can trust our professional crew. They're knowledgeable, friendly, & clean. Plus, we're bonded & insured.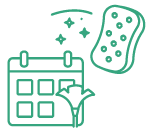 Flexible Scheduling
We know you've got a lot on your plate. We'll work with you to fit your project into your busy life.
PROFESSIONAL PAINTING SERVICES To Update Every Surface
⭐⭐⭐⭐⭐
Definitely rate Chris and her crew 5.0 She has been doing the cleaning of our house for the past 5 years!!! Just top-notch!! So easy to work with very accommodating with details – will work with customers schedule.! Need I say more!
⭐⭐⭐⭐⭐
Delivered exactly what they said they would and then some. I was very impressed by the attention to detail.
⭐⭐⭐⭐⭐
Cristiane and her staff have been providing us with extraordinary cleaning services for over 5 years. Her team is polite and always timely and the attention to detail is spot on. We have a lifestyle that demands nothing less the best and Cristiane never fails to deliver.
⭐⭐⭐⭐⭐
Top-notch cleaning service for either regular service or for special projects Always very professional.